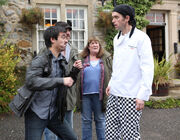 Cain is furious to discover where Charity has been staying and demands she leave the village - handing her a holdall full of cash and ordering her to stay away from him and Debbie. Mark is frustrated to see Faye and Jai together in the Woolpack and accuses her of trying to make him jealous, while Marlon is embarrassed about having to be around Moira following his confession.
Characters: Edit
Zak Dingle
Lisa Dingle
Sam Dingle
Belle Dingle
Shadrach Dingle
Marlon Dingle
Eli Dingle
'Cain Dingl'e
Debbie Dingle
Sarah Sugden
Charity Tate
Noah Tate
Gennie Walker
Jai Sharma
Nikhil Sharma
Priya Sharma
Diane Sugden
Paddy Kirk
John Barton
Moira Barton
Faye Lamb
Ryan Lamb
Mark WYlde
Natasha Wylde
Maisie Wylde
Will Wylde
Ad blocker interference detected!
Wikia is a free-to-use site that makes money from advertising. We have a modified experience for viewers using ad blockers

Wikia is not accessible if you've made further modifications. Remove the custom ad blocker rule(s) and the page will load as expected.