Tina tips Peter off that Carla is looking at houses behind his back and demands that he make a choice. Will he agree to run away with her? A fight breaks out in the cafe when Kirk blames Todd for Maria's behaviour, while Gail's suspicions are aroused by a tense and intimate conversation between Kal and Leanne at the gym. Tony puts pressure on Rob to drive a van load of stolen electrical goods for him.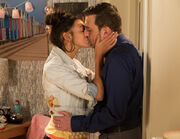 Characters: Edit
Peter Barlow
Carla Barlow
Tracy Barlow
Audrey Roberts
Gail McIntyre
Leanne Tilsley
Steve McDonald
Tony Stewart
Todd Grimshaw
Marcus Dent
Fiz Stape
Tyrone Dobbs
Lloyd Mullaney
Kirk Sutherland
Maria Connor
Liam Connor
Michelle Connor
Rob Donovan
Tina McINTYRE
Anna Windass
Beth Tinker
Steph Britton
Sharif Nazir
Kal Nazir
Andrea Beckett
PC Brewer
Ad blocker interference detected!
Wikia is a free-to-use site that makes money from advertising. We have a modified experience for viewers using ad blockers

Wikia is not accessible if you've made further modifications. Remove the custom ad blocker rule(s) and the page will load as expected.